Online poker enthusiasts living in the US but outside of legal online poker states like Nevada, Delaware, and New Jersey, have surely spent some time looking for reputable poker sites that accept Americans, and thus, they must have run across the brand name, BetOnline.
BetOnline Poker is one of just a few highly reputable internet poker sites that continues to accept players from the US, and is the flagship representative of the Chico Poker Network; currently the 4th largest US-facing poker network in the world.
Accepts US Players
Fast Cashouts
Fastest Growing US Site
Established: 2004
History of BetOnline Poker

The BetOnline company dates back well over a decade, originally launched in 2001 as an online sportsbook.
It wasn't until 2011 that the brand expanded into the online poker realm, particularly keen on the acceptance of American players who had been excommunicated from much of the internet gambling industry by the actions of the US Department of Justice on April 15, 2011; a date forever etched into the history books as the Black Friday of Online Poker.
It was a bumpy road at the beginning, hampered by bad network choices and disreputable activity on the part of some players (chip dumping, in particular) that tarnished BetOnline Poker's reputation.
Being a former member of the Action Poker Network didn't help matters as APN was constantly under fire for slow payment issues. Eventually, APN was dissolved and the Chico Poker Network was born. BetOnline has since become the leading poker skin on that network, and its reputation has flourished since mid-2013.
BetOnline Mobile Poker Accessibility – My Personal Experience
My intention was to document the entire process of playing mobile poker at BetOnline, from the very first step of signing up an account to navigating the lobby and tossing chips at the tables.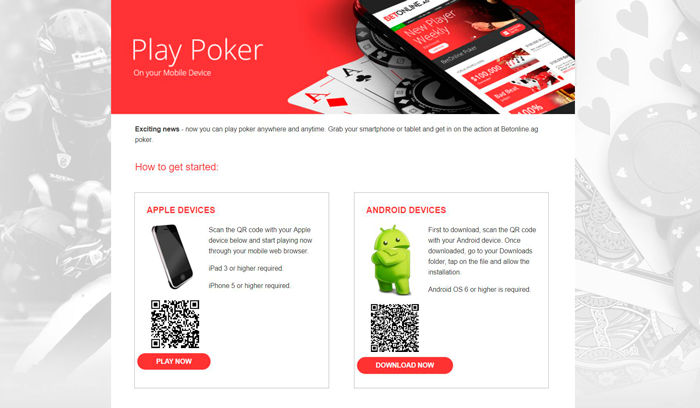 The purpose was to deliver a comprehensive, unbiased review of BetOnline Mobile Poker. The end result was not at all what I expected:
Signing up an account with BetOnline was a breeze, but logging in was exasperating. First of all, BetOnline Mobile is represented by two separate URLS – mobile.betonline.com and mobile.betonline.ag. According to their own accounts, both work just fine, but that wasn't my experience.
To this day, I have never been able to log in through BetOnline.com, for mobile purposes or otherwise. Although it's not stated anywhere, US players are ostensibly restricted to the BetOnline.ag domain.
Once I figured that out, another problem arose during login. The mobile.betonline.ag site comes in two versions, the "new BetOnline Mobile site" and the "old school mobile site". Attempting to log in to the old version was met with the error message, "invalid username".
Once I clicked to switch to the new version (mobile2.betonline.ag), I received a new error message, "Password is invalid. Maximum 10 characters". Password length was never mentioned during registration, so I had no idea that my password had been cut down from 12 to 10 characters.
Once I wiped out the last two, I logged into login, but only in the "new" mobile version from the ".ag" domain. I immediately tested the old version and even the ".com" version with the 10-character password but received the exact same invalid username error I had received before.
To this, I can only assume that the old version either doesn't work or is only compatible with certain devices (excluding my Android 4.2.2 powered Samsung Galaxy Tablet).
Once logged in, I was immediately asked to make a deposit before accessing any other partitions of the BetOnline mobile site. Assuming that I would be at the poker tables soon enough, I had no trouble making a deposit. However, I was baffled when the menu only listed 'Sports' and 'Live Betting'. There was no mention of anything linking to the site's renowned poker room. I immediately contacted customer support, only to get the following response:
"Please note, that we do not currently offer poker software for Mobile or Tablet. We only offer poker software for Windows or Mac."
I was then directed to a link from which I could download the poker software for PC or Mac.
Needless to say, I was incredibly displeased. My only saving grace was that I still needed to examine the PC/Mac version of the software, which I've reviewed in brief below. All in all, my personal experience was a long and drawn out process that process that ended in grave disappointment.
There is no mention anywhere on the BetOnline website that the mobile platform does not support an extension for poker play. In a curt reply to CS, I suggested they incorporate such a missive directly on the website, stating "mobile for sports betting only" or something to that effect. Apparently, my advice will be taken into consideration…..
BetOnline Poker for PC and Mac
The downloadable poker software comes in two varieties, one optimized for Windows PC, and another for Mac. They are both downloadable, with no 'instant play' version on the menu.
BetOnline Poker Games
The cash games lobby delivers a limited variety of real money games that include:
Omaha
Omaha Hi/Lo.
Each is available in FL, NL and PL stakes with a wide array of table and stack sizes to choose from.
BetOnline Mobile Poker – Traffic
The software is easy to navigate, with multiple filters supplied for cash games and MTT/SNG tournaments.
Traffic-wise, the low- and mid-level stakes of up to $2/$4 get the most action. The Chico Poker Network averages 260 concurrent cash game players, with peak hour figures of near 500.
BetOnline Mobile Poker Perks & Promos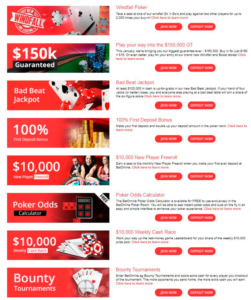 The poker promotions at BetOnline are extensive and include at least $150,000 in guaranteed tournaments running monthly and a full schedule of freerolls that anyone can enter, free of charge, on a 24/7 basis.
Members receive a 25% deposit bonus on every single deposit, plus special tournament bonuses that can be used to enter one of the poker room's many guaranteed events.
There is a lucrative 200% sign-up bonus for all new members, but some effort is required to obtain it. After making a minimum deposit of $50, the player must send an email to freeplay@betonline.ag with the exact subject line "POKERNEW". Once the email is received, the bonus is activated.
All poker sites award points for participating in raked cash games and buying into tournaments. At BetOnline they are called POP Points, and carry multiple benefits. They can be converted to cash or used to enter weekly POP2Cash tournaments with a $500 cash prize pool.
BetOnline Poker Payment Options
Members of BetOnline Poker will find an assortment of deposit methods available. They include:
Visa debit/credit card payments
Visa/MasterCard Instant Vouchers
P2P transfers
Bank Wire
Book to Book Transfers (with other participating sportsbooks; not eligible for deposit bonuses)
Two eWallets: Neteller and Skrill.
Withdrawal Options
The same methods are available for withdrawals, minus Visa or MasterCard credit/debit/vouchers. Checks (via mail, express mail or courier) are also available and, in my personal experience, take anywhere from 3 to 5 weeks for reception.