There are thousands upon thousands of people who can claim to have won a big live poker tournament. Some of them can even boast back-to-back wins worth five figures or more. But it's very few who can say they've performed well enough to complete a hat-trick. That honor now goes to female poker pro Angela Jordison.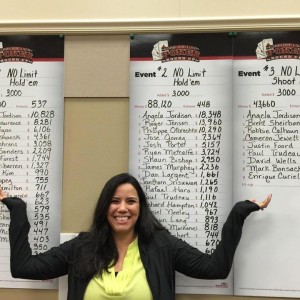 The young mother of two from Redmond, Oregon joined an immense crowd of poker players at the Wildhorse Casino in Pendleton, OR last weekend to compete in the annual Spring Poker Round-Up. On Friday, April 10, Jordison registered for the Round-Up's Event #1, $125 NL Holdem, then proceeded to survive the entire field of 537 to take down the top prize of $10,828.
That win marked the second largest live poker tournament cash of Angel Jordison's career, and her 20th cash overall. Up to that point, the female poker pro's highest single-event payday came in 2009 at the same Wildhorse Casino Spring Poker Round-Up, where a 2nd place finish in a $215 NL Holdem event netted her $14,534.
But Angela Jordison wasn't done celebrating just yet. The very next day, she entered Event #2, $225 NL Holdem, where she rigorously whittled away at the 448 field to emerge victorious once more. After defeating a worthy heads-up opponent in Robert Jensen (2nd, $13,960), Jordison collected another 1st place prize of $18,348; now the largest of her career.
At that point, friends and fans throughout Twitterverse began singing the praises of Angela Jordison. "Holy shit," tweeted one witness. "Huge congrats to Angela Jordison winner of the @WildhorseCasino Pendleton Round-up open events #1 AND #2…"
As you already know, her reign of dominance wasn't over just yet. Sunday came, and with it Event #3, $200 NL Holdem Shootout. Although Angela felt her luck at the tables should surely have run out by then, that wasn't the case at all. She routed the field of 215 to claim yet another 1st place finish worth $8,731.
And with that, her hat-trick was complete. Angela Jordison had attained one of the most prestigious accolades in the professional poker world, and a total of $37,907 to go along with it.
"The last three tourneys have become a blur," said a perpetually smiling Jordison after winning her third straight event at Pendleton's Wildhorse Casino. "I have played more heads-up in the last three days than I ever have in my life. I had hands hold against big draws, suck outs, big lay downs, taken beats, and thrown some big bluffs. There were times that I had a difficult time in containing my aggression and my stack was up and down like a yo-yo."
She went on to tell interviewers that she almost didn't enter the third event for fear her fortunes could never stretch so far, and that she didn't want to get too greedy, either. It was a good thing she did, though, and she intends to put most of her profits towards a college education at University of Oregon for her two children. The rest, of course, will go towards entries to more live poker tournaments.
In closing, Jordison gave praises to all those who backed her throughout the Spring Poker Round-Up. "The support I have is amazing and appreciated," she said. "When I busted out of the limit Omaha today the entire tournament and all the live games started clapping and cheering for me. It was a moment that I will never forget."
Prior to her magnificent hat-trick performance, Angela Jordison had cashed in 19 live poker events worth a total of $48,356, near half of which came from Spring Poker Round-Up and Summer Poker Rodeo events at Wildhorse Casino throughout the last nine years. She also cashed in two WSOP events in 2010. Her new live tournament career total is $86,263 across 22 cashes; a figure that is sure to continue rising over the coming years.