According to reports, Bryan Micon, founder of Bitcoin poker site Seals with Clubs (SWC), is expected to return to US soil next week to appear in a Nevada courtroom. Micon fled his Las Vegas home for Antigua in February after police raided his apartment on charges of running an unlicensed online poker room.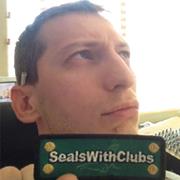 SWC was vastly popular among US poker players prior to its seizure by US officials. The Bitcoin poker site gave players complete anonymity in financing their accounts via the crypto-currency, while offering all of the key perks of traditionally funded online poker sites.
During the raid, Micon said that police confiscated numerous computers and other electronic equipment from his home. After fleeing to Antigua, the SWC founder maintained his innocence, saying he'd done nothing wrong, and almost immediately launched a new Bitcoin poker site, SWCpoker.eu.
Arrest Warrant Issued for Operating Unlicensed Bitcoin Poker Site
In April, the Nevada Attorney General issued a warrant for the arrest of Bryan Micon, charging the married father of one with a single count of 'operating an unlicensed interactive gaming system'. If convicted, Micon could face a maximum penalty of up to 10 years in prison and up to $50,000 in fines.
The documents filed with the Court of Clark County accuse Bryan Micon of managing a Bitcoin poker site, www.sealswithclubs.com, from March 1, 2014 to February 9, 2015, "without first procuring and thereafter maintaining in effect the required licenses."
Claims of Financial Hardship Anger Supporters
Initially, Micon announced that he had every intention of fighting the charges. However, he raised eyebrows from the online poker community by stating that he lacked the financial capacity to do it alone. He launched a fundraising campaign on GoFundMe, asking his supporters to help him raise $100,000 to cover legal fees.
Many of his supporters lost interest at that point, having a hard time believing Bryan's self-proclaimed hardship. This is a man who indicated he was pocketing between $10k-$12k a month from SWC, and more than once implied his desire to acquire the defunct Lock Poker, pay off the estimated $15 million owed to its players, and renew the once-popular poker site under his own direction.
Over the next four weeks, Bryan was able to generate $4,005 in donations before GoFundMe closed the Bitcoin poker site owner's account. No specific reason was provided.
Micon simply Tweeted on May 16, "For reasons they will not disclose, GoFundMe has stopped funding me."
Since then, the traditionally outspoken socialite has been tight-lipped. Micon has continued to post pictures of himself and his young daughter on Facebook, but has offered no comments on the situation brewing in Nevada.
Judge Rescinds Arrest Warrant for Bryan Micon
The Las Vegas Review-Journal reported that, in an effort to bring him back to the US, a Nevada judge rescinded the warrant for Micon's arrest last week. Court records show a hearing has been scheduled for Thursday, June 25, and according to his defense attorney, David Chesnoff, Bryan Micon is expected to appear in court that day.
With the warrant withdrawn, the 36 year old Bitcoin poker site's founder will be free to travel back to Clark County without incident and voluntarily give himself over. Court documents indicate that Chesnoff's client will be booked at the Clark County Detention Center upon his arrival, followed by release on his own recognizance.