Outside of California, Pennsylvania is considered the top candidate for launching a successful, legally regulated online poker market in the United States. There are currently three bills seeking regulation of online gaming in the Keystone State. On Monday, a fourth bill, HB 1013, was introduced to do just the opposite, proposing to ban online gambling in PA.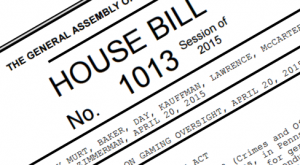 State Representative Thomas P. Murt [R-Montgomery/Philadelphia] introduced HB 1013 on April 20, 2015 as an act "Banning Internet Gambling in PA". The measure would assign amendments to Tiles 4 (Amusements) and 18 (Crimes and Offenses) of the PA Consolidated Statutes, giving "general and specific powers" to the Gaming Control Board in relation to gambling and gambling devices.
HB 1013 currently has 7 co-sponsors, including State Representatives Matthew Baker [R-Bradford/Potter/Tioga], Gary Day [R-Berks/Lehigh], Rob Kauffman [R-Franklin], John Lawrence [R-Chester/Lancaster], Stephen McCarter [D-Montgomery], Will Tallman [R-Adams/Cumberland], and David Zimmerman [R-Lancaster].
Specifics of PA Ban Online Gambling HB 1013
The text of the bill to ban online gambling in Pennsylvania would revise Title 18, Section 5513 (d.1) Internet Gambling, to read:
No individual or entity shall solicit, invite, collect or accept cash or any other form of currency through the Internet for the purposes of wagering or betting. No individual or entity shall organize, or cause to be organized, any type of gambling event that is held over the Internet.
The penalties imposed by Rep. Murt's HB 1013 would punish a first-time offender with a fine of up to $300. Second offenses would be punishable by a fine of up to $600 and imprisonment of up to 3 months. Any subsequent offenses would be charged as a third degree misdemeanor, worthy of up to $2,500 in fines and up to 1 year imprisonment.
HB 1013 has Virtually No Chance of Success
Fortunately for the countless gaming fans hoping to see online poker regulated in the Keystone State, Rep. Murt's efforts to ban online gambling have virtually no chance of success. Upon introduction Monday, HB 1013 was referred to the Gaming Oversight Committee, chaired by Rep. John Payne.
As anyone following the progress of iGaming regulation in Pennsylvania knows, Rep. Payne introduced one of three bills seeking to legalize online poker in the state, HB 649. Another, HB 920, was introduced by Rep. Tina Davis, the GO Committee's Democratic Secretary.
A recent public hearing held by the GO Committee to discuss the topic of online poker was largely successful for advocates of regulation. Judging by the overall favorable consensus of the panel, online poker players in the Keystone State have been given strong hope that PA will eventually become the fourth state in the US to legalize at least internet poker games, if not a full regime of online casino games as well.
In order for Murt's HB 1013 to have any chance of success, it must first be approved by the GO Committee before the Senate can get their hands on it. Payne and Davis, who clearly support legislation in the opposite direction, will do everything in their power prevent passage of a bill to ban online gambling in Pennsylvania.