Sources indicate that Iowa officials are revisiting the idea of regulating online lottery sales in The Hawkeye State. Legislators have toyed with the idea ever since 2011, but thus far, nothing has ever come of it.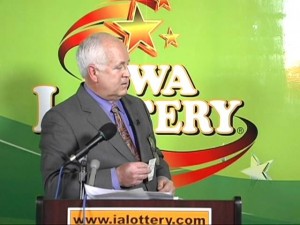 A report that surfaced on RadioIowa.com detailed the minutes of a hearing that took place in the Iowa House Government Oversight Committee last week. Key testimony was delivered by Terry Rich, CEO of the Iowa Lottery, who stated that lotto will eventually see a great decline in revenue if it doesn't adapt "to player expectations for convenience and use of technology."
Rich told the panel, "A mobile device is what most millennials are using now. Only 25% of the people today use cash when they go into a store." The CEO went on to explain to the committee that, according to the Attorney General's opinion in 2011, the Iowa Lottery has every right to authorize and conduct "internet gaming".
Whether legislators in Iowa agree that online lottery sales are the future of the market is yet to be determined. The question of online poker also looms unforeseen, although state regulators did conduct an unofficial study a few years ago underlining the conclusion that approximately half of Iowa's gamblers that visited land-based casinos "played Internet poker a few times a week or more".
A 2011 report from regulators indicated that Iowan online poker players had spent anywhere from $13 million to $60 million at offshore poker sites. State officials had previously suggested a 22% tax rate for regulated online gaming, which—if internet poker were to be authorized at that rate—could bring in somewhere between $3 million and $13 million to the state's tax coffers.
But for now, the issue of legalizing online lottery sales is the main topic up for discussion in Iowa. And according to Mr. Rich, although the AG's opinion gives state lottery officials the final say in whether online ticket sales can be permitted, he has no intention of moving forward without the consent of the House Government Oversight Committee.
"We don't plan to do that without having discussions with you, working with the other gaming entities. We need to do it as a gaming policy for the State of Iowa…" he said. Rich also pointed out that, "five states are doing it now pretty heavy including Illinois, Minnesota and Missouri is doing some other types of internet gaming."
Illinois, Georgia, Michigan and Minnesota currently off online lottery sales to the public. Missouri is presently working a different angle by systematically testing a "pay at the pump" design wherein consumers can purchase their gas, and their lottery tickets, while pumping gas. As far as regulated online poker, that is only authorized in the states of Delaware, Nevada and New Jersey.
Earlier this month, Mr. Rich reported that traditional lottery sales have been "spectacular" over the 8 month period lasting from July 2014 to February 2015. The Iowa Lottery brought in $217.5 million in that time span, representing a 12.5% increase over the average sales for the last 5 years. But in his opinion, the only way to maintain that level of growth is to keep up with modern technology by moving forward with online lottery sales.