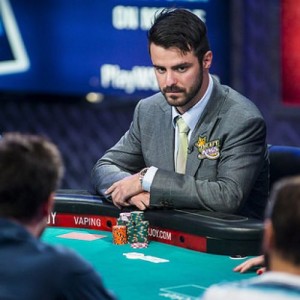 As the opening 7 Days of the World Series of Poker Championship ran their course and the final table was born, one player clearly stood out.  Nestled amongst a sea of hoodies and worn t-shirts was one man who looked like he'd just stepped off Wall Street. Donning a luminescent grey suit, silver tie and smartly cropped facial hair, Max Steinberg was an imposing presence in more ways than one.
For the other poker players at the table, Steinberg's affluent appearance was the least of their concern. His presence is all the more imposing because he has one thing that no other member of the 2015 November Nine has – a WSOP bracelet.
Max Steinberg's Rise to Renowned Poker Professionalism
An incredibly accomplished poker pro, Steinberg has racked up close to $2 million in live tournament winnings since 2008. Throughout his 18 career cashes, 10 of which occurred in WSOP events, Max has two major achievements worth noting.
In 2012, the California native entered a WSOP $1,000 NLHE Event along with 2,794 other competitors. Facing a final table that included the likes of fellow pros Ryan Laplante, David Nicholson, Dylan Hortin and Matt Stout, Steinberg routed the field to capture his first (and currently only) WSOP bracelet, along with a lucrative paycheck worth $440,238.
The following year, Max entered the 2013 WSOP Main Event, where he maintained a top-tier leadership role among the chip counts throughout day 3 and 4. Helping him sustain that status, he famously eliminated Phil Ivey, arguably the best poker player of our time, from the competition. However, one moment of zealous courage led to his demise on Day 5, sending him out in 131st for $50,752.
Early Retirement Plans Unraveled by DFS
If you look at Steinberg's live poker results, you'll notice a gaping hole in his list of career cashes. After raking in 7 paychecks in 2013, he's only cashed one time since, that being a low-end cash at the Arizona State Poker Championship in August 2014. But otherwise, his guaranteed $1+ million win as a 2015 November Niner is his first cash in two full years, and by far the largest of his career to date.
Last year, Max actually decided to retire from the poker tables, taking up another full time gambling gig, Daily Fantasy Sports (DFS). Ironically enough, it was DFS that drove him back to the tables. Steinberg qualified for a seat in the WSOP Main Event via successful wagers on fantasy basketball at DraftKings.
Steinberg Sails into 2015 November Nine
At 27 year old, Steinberg now finds himself among the poker world's greatest stage as part of the elite November Nine. He was in the top 10% in the counts on Days 2 and 3, but barely survived Day 6, ending in 24th place out of 27 players remaining.
By the end of Day 7, Max had improved to a median stack of 20,200,000. That puts him in 5th place among the final 9, but the road to the Championship bracelet won't be an easy one. The current chip leader, Joe McKeehen, may not have a WSOP bracelet like Steinberg, but he is considered the most experienced player in the mix, and has a stack of 63,100,000—more than 2x that of the nearest competitor, Zvi Stern (29,800,000)—to back that reputation.