As usual, the 2015 World Series of Poker Main Event's November Nine has come down to an eclectic mix of amateurs and elite poker pros. Belgium's Pierre Neuville falls into the latter group, having raked in over $2 million as a professional poker player. And with the fourth highest stack (21,075,000) going into the final table, his odds of success aren't exactly threadbare.
Neuville Oldest in November Nine History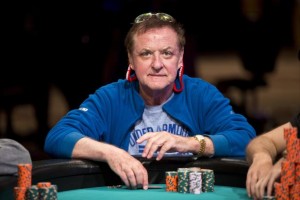 Pierre isn't just a long-time grinder of the felt, though. At 72 years of age, whether he goes on to win the ultimate WSOP Championship bracelet, and the $7,680,021 prize that comes along with it, or drops to the rails on the first hand of the day, his name will go down in the WSOP's record books as the oldest member of the November Nine in WSOP history. Should he win it, he'll also claim the title of the oldest WSOP Champion, surpassing the late Johnny Moss who won it in 1974 at the age of 67.
In Neuville's prime, poker was a game dominated by the elders. Legends like Doyle Brunson ruled the roost, while younger generations were considered easy pickings. In the last two decades, however, the roles seem to have reversed. In fact, ever since Jerry Yang won it in 2007, every WSOP Main Event has been won by a player in their 20's.
That doesn't seem to faze Pierre, though. While the younger generation may have the upper hand in the stats, Neuville has a ton of experience on his side. Since 2007, he's cashed in 84 major live poker events, collecting just over $2 million along the way, and that doesn't even include the previous undocumented cashes across his 40 year poker career.
He's no stranger to the poker world's largest stage ether. 17 of those cashes were achieved at WSOP events totaling $590,178 in winnings. In 2014 alone, Neuville collected 8 paychecks from the WSOP worth a combined $426,852, including the largest single-tournament payday of his career (up to now), $385,041 for finishing runner-up to American Kevin Eyster in a $1,500 NLHE 6-Max event.
Despite his imminent success in live poker tournaments, Pierre Neuville has never won a major title. He's been one-away from an EPT Title on two occasions in 2009 and 2012, finishing 2nd at the EPT Vilamoura and EPT Copenhagen Main Events respectively. Now, after so many years of being a highly successful poker pro, capturing the WSOP Championship Gold would be the icing on the cake for the 72 year old Belgian.
Pierre Neuville to "Enjoy Every Single Moment"
Asked how he felt about making the November Nine, an enthusiastic Neuville responded, "It was a good feeling. It's above any expectations – I mean, realistic expectations." He said being on this stage has always been a dream of his, and that after 40 years playing poker, this is by far the most enjoyable moment of his career.
When he awoke the next morning after the conclusion of Day 7, Pierre said he immediately thought it was all a dream. He actually voiced his disappointment at waking from that dream to his wife, who had to remind him that yes, his final table appearance come November is indeed a reality.
Neuville said that the next three months leading up to the commencement of the November Nine will be among the most memorable times of his life. Although he admits that the whole concept of a 3-month hiatus is nothing but a marketing tactic on the WSOP's part, it's also a benefit to the player. He expects to "enjoy every single moment" of every day, saying "I think it's fantastic!"