Saying 2015 hasn't been the best year for Bryan Micon is a major understatement. His Nevada-based Bitcoin poker site, Seals with Clubs, was shut down by authorities in February pending investigation into the unlicensed online gambling site. Then in April, a warrant was issued for his arrest. Now, his new Bitcoin poker room, SWCpoker.eu, has lost most of its traffic.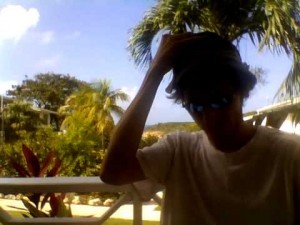 When Seals with Clubs was first seized by authorities earlier this year, Bryan Micon and his family relocated outside the US. He took up residence in Antigua, where he filmed and posted a YouTube video explaining the situation to members of the Bitcoin poker site. He maintained his innocence and declared the impending relaunch of the poker site under a new domain, SWCpoker.eu.
In April, when it was announced by the Nevada Attorney General's Office that an arrest warrant had been issued for Micon, SWCpoker was averaging 32 players over a 7-day period. While that's not quite as many as the original Bitcoin poker site was drawing, it was still a respectable number for a newly launched operation.
Since then, SWCpoker has seen its player base decline by 44%, down to an average of just 18 cash game players, with no tournament traffic to speak of.
Surely there are numerous reasons why the Bitcoin poker site is seeing a drastic decline in player participation, but there's only one that stands out like a sore thumb.
Bryan Micon turns to Public for Help
Bryan Micon has said that he intends to contest the charges against him, which include "operating an unlicensed interactive gaming system". However, he has no intention of turning himself over to authorities until he can afford the legal fees to fight the charges in court.
On April 28, the same day the warrant was issued, he set up a donation website on GoFundMe.com called 'Bryan Micon's Legal Defense Fund'. The Bitcoin poker site's founder claims that the cost of his defense team, Chesnoff & Schonfeld, "will quickly deplete my funds". Thus he is trying to raise $100,000 by turning to the public in hopes of receiving donations towards his cause.
In the last two weeks, Micon has managed to collect a total of 54 donations totaling $3,945. That's a far cry from the 6 figures he is seeking to help support his legal battle, plus his wife and 2 year old daughter, during these trying times.
Poker Players Skeptic of Micon's Finances
Having helped to build the foundation of the Bitcoin poker industry, the news that Micon is short on finances isn't sitting well with some players. According to some of the documents seized by Nevada authorities, Micon has accumulated a significant amount of money over the years through his association with Bitcoin.
"…how is Micon not seriously loaded at this point?" questioned one PocketFives forum poster known as 'Duffy08'. "Not only did he have a piece of SWC but he was also praising the future for bit coin when prices were under 10$ and continued praising all the way to $1,000."
Much like the traffic at his SWCpoker Bitcoin poker site, the rate of donations has dropped off dramatically in the last week. 51 of his 54 donations were made in the first week, with only 3 contributions totaling $415 coming in over the last week.
If convicted, Bryan Micon faces penalties of up to $50,000 in fines and up to 10 years in prison for operating an unlicensed Bitcoin poker site in the United States.