American poker pro Mike Gorodinsky has had an amazing run at this year's 46th Annual World Series of Poker. He's cashed five times already, including 28th, 9th, 3rd, 2nd and now 1st place finishes under his belt. After taking down the 2015 WSOP $50,000 Players Championship just after midnight—collecting the second bracelet of his career, the esteemed Chip Reese Trophy and $1,270,086—Gorodinsky now leads the 2015 WSOP Player of the Year (POY) Leaderboard.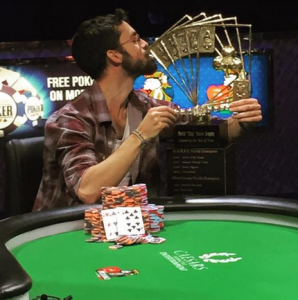 Mike Gorodinsky was one of 84 players to register for the 2015 WSOP Players Championship, bringing the prize pool to $4,032,000. From that pool, only the top 12 places would be paid, ensuring a 7-figure payday for the winner.
Ten years in the making, the Poker Players Championship is considered one of the most prestigious events in the World Series of Poker. This year, it was extended from an 8-Game to 10-Game Mix with the inclusion of NL 2-7 Single Draw and Badugi.
Mixed events such as these tend to draw only the most experienced veterans of the felt, and with a $50k price tag, you can be certain the field was teeming with elite pros.
I normally reserve the final table results for the end of a tournament review, but in this case, to elaborate on the difficulty of the field, I'll instead post the full list of players who finished in the money.
2015 WSOP $50k Poker Players Championship Payout Results

1st
Mike Gorodinsky
$1,270,086
2nd
Jean-Robert Bellande
$784,828
3rd
David Baker
$514,926
4th
Ben Sulsky
$353,928
5th
Chris Klodnicki
$251,314
6th
Dan Kelly
$184,222
7th
Jason Mercier
$139,265
8th
Shawn Buchanan
$139,265
9th
Abe Mosseri
$110,073
10th
Justin Smith
$110,073
11th
John Racener
$87,010
12th
Matthew Ashton
$87,010
Mike Gorodinsky Road to 2015 WSOP Player Championship
Despite the rather small player field, Event #44 took 5 days to finish. Heads-up play was decided just moments before the clock struck 9:00pm last night when Gorodinsky was able to eliminate 2x WSOP bracelet winner David "ODB" Baker in 3rd place on a hand of NL Holdem.
As Gorodinsky prepared to face off with the crowd's favorite poker celebrity, high-stakes professional Jean-Robert Bellande, the American held a decent advantage of 7.5mm to 5mm chips. From there, the two undertook a long, hard-fought battle that lasted three and a half hours before the final hand of play commenced.
The game was PLO, with Bellande opening to 300k. Mike Gorodinsky called and the flop came down Q♦ 9♦ 8♠. Mike checked and Jean-Robert pulled a 600k pot-size bet from his stack before taking a second glance at his cards and sliding it into the pot.
With 1.2mm in the middle, Gorodinsky announced he was raising the pot to the max total of 2.4mm, which was just shy of his opponent's remaining chips. It took Bellande a few seconds of consideration before he made the decision to shove all-in.
Mike made the call and asked, "You have anything?"
"Yeah, two pair", responded Jean-Robert.
Gorodinsky replied, "I have a set."
"Really?!" questions Bellande.
And with that, each tabled their hole cards.
Mike Gorodinsky: 10♣ 8♣ 8♥ 3♥
Jean-Robert Bellande: A♣ Q♠ 10♠ 9♣
As it turns out, both were telling the truth, leaving Bellande behind and in need of a 9, J or Q to stay alive. The K♣ turn offered no help, and another K♦ on the river ensured the win for Mike Gorodinsky.
Jean-Robert Bellande was denied his first bracelet, claiming the second WSOP runner up finish of his career. The 2nd pace $728,848 prize was a nice consolation, though.
Gorodinsky celebrated by adding $1.27 million to his career live tournament winnings, now doubled to $2,516,198. His WSOP bracelet collection doubled to 2 as well. Perhaps more importantly, though, he received the unequivocally respected Chip Reese Trophy.
Mike Gorodinsky Leads 2015 WSOP POY
With five cashes worth a collective $1,719,456, Mike Gorodinsky is now seated atop the 2015 WSOP POY list with 1,771.21 points. His nearest rival, Paul Volpe, also bearing 5 cashes so far in the 2015 WSOP, is not far behind with 1,631.59.