Whether you play poker or not, chances are you aren't familiar with the name Patrick Chan – or at least you weren't before the World Series of Poker Main Event played down to the final table last month. Although he's not exactly famous, Chan is a fierce poker player with $524,263 in live tournaments winnings under his belt, and he's guaranteed to at least double his career cashes as a member of the 2015 WSOP's elite November Nine.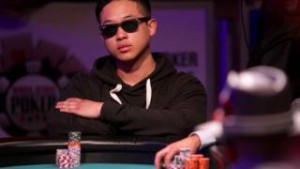 Working against the Brooklyn, New York native is a diminutive stack of just 6,225,000 chips, equivalent to only 16 big blinds. He holds the second lowest stack at the final table, but not by much. Frederico Butteroni is low man on the totem pole with 6,200,000, just 25k less than Chan.
At 26 years of age, Patrick definitely possesses the look of an intimidating poker pro – dark hoody, dark sunglasses, smooth features that give away nothing of his interior thought process. Coming back from such a deficit won't be easy, but with a little luck, Chan's experience and discipline could prove fruitful come November.
Chan's Poker Background
Patrick Chan got his start playing poker when a college buddy invited him to participate in $0.25/$0.50 NLHE out of his basement. Chan was soon making good money in those games. Seeing potential in his friend, the same college buddy, who happened to be a professional online player already, introduced Chan to internet poker.
By the time Black Friday struck in April 2011, Chan had only recorded one live event cash, but that number grew enormously when he found himself obligated to take his passion back into the physical realm. This time, he was looking for something a bit juicier than low-limit home games.
Since 2010, Chan has racked up a total of 36 tournament cashes, pocketing just over a half a million in winnings. His largest cash to date was the result of a 3rd place finish at the 2012 Borgata Fall Poker Open in Atlantic City, where he collected $131,895.
Patrick is no newcomer to the Las Vegas scene, either. In fact, he's made his way out the Vegas every summer, cashing in four WSOP events prior to his recent November Nine status. Chan's best WSOP finish so far was a 12th place run in the 2014 WSOP Millionaire Maker, worth $100,689.
Table Talk with Patrick Chan
In a recent interview, Patrick spoke of one of the hardest aspects he's endured as a professional poker player; the attitude of his family. Chan said his parents have been less than enthusiastic about his decision to pursue poker as a full-time career, but he hopes his televised appearance on the poker world's greatest stage, and a guaranteed 7-figure payout, will help to sway their judgement in his favor.
Chan called his upcoming November Nine experience "a dream come true". As the final table was approaching, Patrick stuck to a tight game plan in hopes of other short stacks busting out before him, and it worked like a charm.
Patrick said competing in the November Nine with a chance to become a world champion means the world to him, and he feels fortunate to be a part of the brilliant spotlight. Maybe now, his parents will stop asking, "What are you going to do with your life?"