Josh Beckley knows all about playing the odds. At 24 years old, he's been grinding the poker felt from Jersey to PA for a few years now, finding great success in live tournament play over the last 11 months. After netting a quadrant of 4-figure cashes at the WSOP this year, he's landed himself in the one position every poker fan dreams of occupying – a seat at the World Series of Poker final table.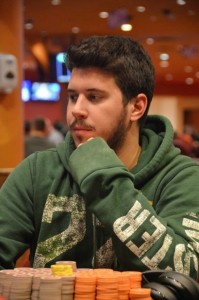 Although Beckley's time as a professional poker player hasn't even reach a full year yet, he cannot be recognized as one of the lesser experienced players to make the 2015 November Nine. In August of 2014, he earned his first tournament cash of $98,348 by placing 1st in a Parx Casino Big Stax VII NL Holdem Event in Bensalem, PA, sparking the dawn of his professional poker career.
Since then, Josh has landed in the money 17 more times, racking up a career total of $219,526. At present, his first $98k cash remains the largest of his career, but Beckley pocketed two other 5-figure paychecks in 2015.
While playing in the Parx Casino Big Stax X, Josh landed a 3rd place finish in a $300+$30 NLHE event worth $53,564, and a 4th place finish in the $1,500+$100 NLHE Event for another $33,932.
Having just begun his professional poker career, 2015 marked the first time Josh had made his way out west to Las Vegas to participate in the World Series of Poker. For a first timer, the results have been phenomenal.
Beckley collected four cashes throughout the preliminary events of the WSOP. He started by finishing 111th in Event #12, $1,500 NLHE 6-Max for $3,276. He followed that up with a 490th place finish in Event #16, the $1,500 Millionaire Maker, worth $3,928.  Six days later, an 87th place elimination earned him $2,397 in Event #26, $1,000 PLO. Finally, on June 17, he collected $9,802 when he exited Event #36, $1,500 PLO in 17th.
Josh entered the $10,000 2015 WSOP Main Event alongside 6,419 other competitors. He ran well the first few days, and though he found himself on the low end of the counts at the end of Days 5, 6 and 7, he's managed to hold on to enough chips to survive to the next day.
With 11,800,000 chips left to his name—enough to cover 29 big blinds when the November Nine reconvenes a few months from now—Josh Beckley faces the most daunting task of his short but lucrative career. But if his imminent success on the East Coast, where he's gained tremendous respect for his indubitable skills on the felt, is any measure, Beckley is nowhere near done.
No matter the result come November, Beckley is guaranteed to scoop the largest cash of his career by at least 10x, or as high as 78x. A 9th place finish will deliver an immense 7-figure payday of $1,001,020, whereas the outright victor is looking to claim the staggering 1st place prize of $7,680,021.