New Jersey Senator Ray Lesniak has been the state's strongest proponent of regulated online gambling, and poker in particular. While he praised current Governor Chris Christie's decision to authorize the activity, he's often berated his lack of efforts to push for a bigger market. Now, with Christie eyeing the White House, Lesniak has made it known that he may make a gubernatorial run himself.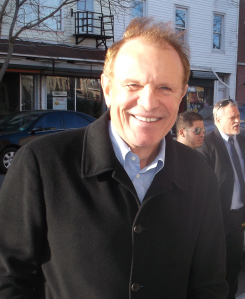 Sen. Lesniak said last week that he has no interest in seeking another term in the Senate. While he did not outright declare his intention of running for New Jersey Governor in 2017, he did say he was seriously considering it. And since state law does not permit Gov. Christie to reclaim the seat, there's no reason why Lesniak shouldn't take a shot at it.
Any genuine online poker enthusiast should think the title "Governor Lesniak" has a great ring to it. The Senator has been pushing for a massive expansion of the iGaming market in New Jersey since it first erupted in 2013, expressing his desire to see PokerStars launch and interstate compacts being made.
According to Sen. Lesniak, who frequently publicizes his political views over Twitter, Gov. Christie is the primary reason why PokerStars has yet to enter the Garden State's online poker market. Whether that's true or not is a matter of great debate, but Lesniak responded to a question regarding the delayed entry of PokerStars by saying it "Won't move without Christie OK…"
The Senator is a firm believer that PokerStars will breathe new life into Atlantic City, and not just by way of internet poker. He's stated in the past, also via Twitter, that the launch of PokerStars in New Jersey will "spark an AC revival".
He elaborated on that topic in a phone interview PokerNews in which he said, "PokerStars is going to make a huge investment in Atlantic City, not just in Internet gaming but in their brand and in bringing attractions to Atlantic City." In terms of when this might happen, Sen. Lesniak said, "It's going to be soon and it's going to be huge."
Unfortunately, that was in September of 2014, almost a full year ago to date. As much as he desires to see PokerStars in New Jersey, and the resounding benefits he is certain will follow, his position in the Senate has been an unproductive catalyst. As Governor, he would have a lot more sway over state regulators, who've relentlessly delayed the approval of the online poker giant's application for a license.
Ray Lesniak's Chances of Winning
Political observers in New Jersey believe Ray Lesniak has a pretty good shot at winning the 2017 Gubernatorial election. Online poker is just one niche area where the Senator will gain support. He's also a strong advocate of other major issues, including everything from environmental safety and animal rights, to marriage equality and enhancing educational opportunities. Also to his benefit, being a longtime member of the New Jersey political realm, his name carries familiarity with voters.
In announcing his consideration for a run at the Governor's office, Lesniak said, "I believe my record shows that I can get things done. The state certainly needs to get things done, and that's why I'm looking at running for governor."