On Monday, the owners of a new subscription poker site, TexasHoldEm.com, announced the long-awaited launch into beta testing mode. According to the press release, the online poker room offers an innovative experience that far surpasses that of traditionally pretentious free-to-play sites, while eliminating the risk factor found in standard internet poker rooms.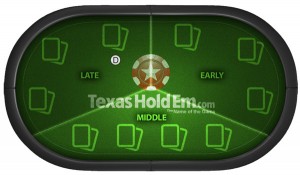 "Online players have only had the option of high risk cash play sites or ridiculous play money sites," explained Dane Joy, Founder and CEO of the new subscription poker site. "Our platform changes that."
A privately held company based out of Scottsdale, Arizona, the team behind TexasHoldEm.com has grown substantially since preliminary development began. Key employments within the company gave them the ability to pursue and succeed in the ultimate goal of creating a cutting edge platform where strategic poker players can gather and harvest the fruit of their labor without having to consistently deposit their hard earned money to play or win real cash.
The focal point of the subscription poker site development was to ensure each game provides a serious poker experience. TexasHoldEm.com meets that challenge by delivering actual cash prizes on 90+ percent of their poker tournaments.
Joy, an avid poker player himself, described the key variances between his subscription poker site and other subscription or free-to-play online poker rooms. "Other sites offering a subscription poker experience make members jump through hoops just to get anywhere near a game that pays out cash. The play money sites are allowing people to spend unlimited money for billions of fake chips that only create an unrealistic and unrewarding experience," said Joy.
"On a play money site, it's impossible to find people who take the game seriously," said the founder of TexasHoldEm.com; explicating a fact that has prevented professional and even part-time poker players from bothering with play-money sites that fail to provide a genuine training ground. "Poker is a social game, and the environments which are out there simply won't help you grow as a poker player."
TexasHoldEm.com has implemented a whole new approach to subscription poker sites, giving its members the opportunity to enhance their skills both on the virtual felt, and in a live setting. "We give our members opportunities to enter live events, all expenses paid, including offering seats to the World Series of Poker in Las Vegas every year!"
TexasHoldEm.com Subscription Poker Membership Packages
Practice [Free]: This level of membership is free to all, giving players unlimited access to free poker games, including tournaments and sit'n'gos. However, the majority of them are satellites that award seats into real cash prize tournaments. A Practice membership also gives players full access to TexasHoldEm.com's social interaction tools.
Basic [$9.95/mo]: Users can upgrade to the Basic subscription poker package, which comes with all of the Practice member benefits, plus daily cash tournaments, access to larger prize pools, rewards and a variety of cash tournaments, plus chances to qualify for even larger prize pools.
VIP [$29.95/mo]: Upgrading to the VIP subscription poker package further enhances a player's experience.  Players can access unlimited cash poker games, exclusive live and online events, and win a seat in major tournaments like the World Series of Poker. Cash poker tournaments become available 24/7 and an array of exclusive VIP member benefits are granted.
High Roller ["In the works"]: This level of membership is not yet accessible, but according to the website, will become available, "As soon as we have enough expressions of interest". Current details include an "Exclusive player environment; the highest level payouts; exclusive events; extended offers; sponsorship opportunities; [and] exclusive tournament entry."
Professionally-minded poker players interested in obtaining an exclusive high-roller membership to the subscription poker site are asked to fill out this form with their user info and express how much they would be willing to pay for it ($50, $100 or 'higher'?). The price level would ostensibly be reflected in the height of its benefits.