Steve Wynn, the casino tycoon responsible for Wynn Resorts, appeared on Nevada's political media outlet, Ralston Reports, on Monday. He and Jon Ralston discussed a number of topics relating to the gambling industry, including current status of internet gaming in the United States. Wynn reiterated his previous stance that online gambling has no place in the US market.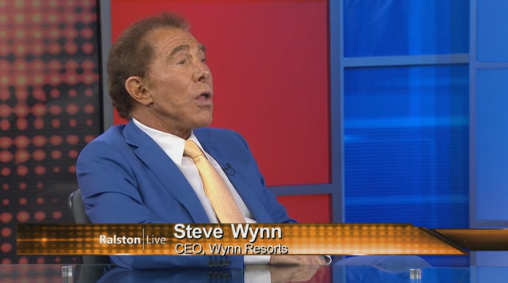 When the Department of Justice first gave states the right to authorize and regulate internet gaming in December of 2011, Wynn seemed to be on board with the plan. In fact, he was so supportive that he entered negotiations with PokerStars to team up for an online poker operation in the Silver State. But by the time Nevada had passed the regulatory stage—one that forbade PokerStars and other so-called bad actors from participating in Nevada's online poker market—his opinion had begun to sway in the other direction.
Fellow casino magnate Sheldon Adelson, owner of Las Vegas Sands Corp (LVS), was making his opposition to internet gaming well known in 2013; the same year Nevada launched the nation's very first legal, real money poker site. It was no secret that there was no love lost between Adelson and Wynn, and Ralston himself said back then that Steve had told him he expected Adelson to eventually change his opinion on internet gaming.
Not only did Adelson stick to his guns, he managed to drag Wynn over to his side of the argument. In February 2014, Ralston caught up with Wynn, where the casino billionaire confirmed his shared opinion against internet gaming with his longtime foe, Adelson. Wynn said it was "not a good entrepreneurial opportunity," asking, "Where is the business opportunity?" Wynn felt the government would take so much in taxes that all profitability would be lost. As for the reliability of the software to protect consumers, he called it "bullshit".
Two years later, not much has changed about Steve Wynn's attitude towards internet gaming. He told Ralston, "I believe that Internet gaming is not going to happen in any way that is meaningful for Las Vegas." Loosely translated, the 73 year old tycoon still fails to see any monetary advantage in it for Las Vegas casino owners.
Where Adelson and Wynn don't agree is the topic of federal legislation to ban internet gaming. Sheldon Adelson was the catalyst behind a bill circulating Capitol Hill known as the Restoration of America's Wire Act (RAWA).
RAWA aims to prohibit all forms of online gambling, from the internet poker and casino games currently taking place in Delaware, Nevada and New Jersey, to the online lottery sales enjoyed by several other states like Georgia and Louisiana.
It's already been agreed upon by most industry analysts that, if RAWA were to get passed into federal law, an exemption for online lotteries would be probable. However, a carve-out for other forms of internet gaming, even peer-to-peer poker games, is incredibly unlikely.
"I don't think it has any chance of getting through the House of Representatives," Wynn expressed his opinion of RAWA. "And even if it did, it would at the behest, at the encouragement, of the state lottery boards who want to go into that business."
As for Wynn and his nationally established casino properties, he said, "I am not going to get into [internet gaming]. We'll get blamed if anything goes wrong."