When we look at each year's November Nine, it's hard to harvest faith that the lower stacked competitors will have a good shot at winning the World Series of Poker Championship. But that doesn't seem to be the case with young Thomas Cannuli. He's got a rail full of pros backing him, and its rumored even Olympic hero Michael Phelps has a piece of his action.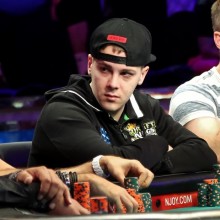 Hailing from the small, southernmost town of Erma, New Jersey, Cannuli isn't exactly the type of player one might expect to see competing on the poker world's most respected stage. Up until now, he's earned only about $52,000 from live tournament cashes dating back to 2011. But his experience on the felt can't be surmised by that detail alone.
At 23 years of age, Thomas is the youngest member of the November Nine this year. That fact alone has limited his time in land-based casinos, but he's been successfully grinding the cash tables in Atlantic City on a regular basis since he was old enough to walk through the doors. He's also spent a good deal of time playing online poker for an untold amount of winnings.
This isn't Cannuli's first WSOP rodeo, either. In fact, two of his five previous cashes came from past World Series events. In 2013, Thomas entered the $1,111 Little One for One Drop, finishing 447th for a nominal cash of $1,797. The next year, he whittled his way down to 691st place in the 2014 WSOP Main Event for a $18,406 payday; his highest recorded live tournament winnings to date.
Multiple Poker Pros put Faith/Money in Cannuli
If his notable lack of recorded success and below-average stack of 12,250,000 (6th highest) doesn't provoke encouragement from the average viewer, it's certainly gripped a notable portion of the professional poker community.
Sweating his rail as Cannuli worked his way through the final stages of the WSOP Main Event were such elite poker pros as Antonio Esfandiari, Jeff Gross, Sorel Mizzi and Brian Rast. Some of those players, if not all of them, are invested in Cannuli's success come November, and if the word around the water cooler is true, the most decorated Olympian of all time (22 medals, 11 gold), Michael Phelps, has a piece of the action as well.
Jeff Gross is one of Thomas's biggest supporters these days, saying, "He's like a little brother, a protégé."
Thomas Cannuli's Road to November Nine
Known affectionately by his friends as "Holy Cannuli", or "Tommy Gun", the young American poker pro has been running strong throughout much of the 2015 WSOP NLHE Championship. By the end of Day 3, he was in the top 10% of the counts. He held that position throughout Day 4, and carried the 8th highest stack out of 69 after Day 5.
Things got a bit rough for Cannuli on Day 6, but he managed to finish the day right in the middle of the field before ending 6th of 9 on Day 7. Entering the November Nine, he'll start with only a little more than half of the median chip stack, and just a fifth of what the current leader, Joe McKeehen (63,100,000), has to work with.